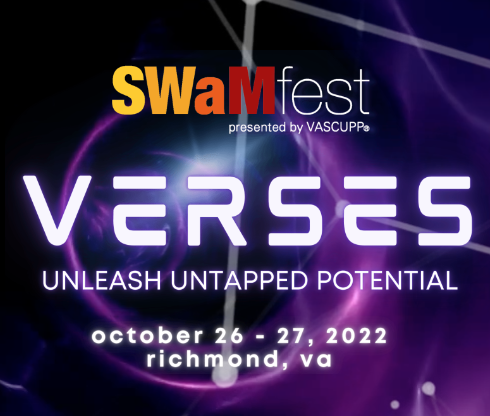 For the first time since 2019, the Commonwealth's premier networking, educational, and professional development event for small, women-owned, and minority-owned businesses will return to an in-person format. SWaMfest 2022 takes place October 26-27 in Richmond's historic Shockoe Bottom district at the Renaissance Revival style Main Street Station. The signature event of SWaMfest is the Vendor Affair on the evening of October 26th, and many of the VASCUPP colleges and universities will have their entire buying teams onsite.
This year's theme is "Verses – Unleash Untapped Potential." From the multiverse to the metaverse, we have entered a new era of business. The past two years have greeted the world with shifting dynamics that have torn the fabric of how business has traditionally been done. Organizations of all sizes have had to reassess and refocus on how they operate. Let us embrace the unique opportunity to create an alternate reality.
SWaMfest has become a watershed event for the small and diverse businesses that serve as the backbone of our economic landscape. The purposeful gathering has become known for the enthusiastic interactions among VASCUPP institutions, prime contractors, corporations, State agencies, nonprofits, and the small, women-owned, and minority-owned business community.
Come meet the UVA Procurement and Supplier Diversity Staff at SWaMfest on October 26-27, 2022, at Richmond's famed Main Street Station!